Active investment is an investing strategy where investors try to actively pick stocks with an objective of generating superior returns by trying to beat the index or benchmark. Here the idea is to chase the return, without much worrying about risks.
Active investing is a strategy where investors try to beat a market or appropriate benchmark which is called as generating an alpha – α. Active investors rely on speculation about short-term future market movements and ignore the overall market wisdom. They commonly engage in picking stocks, times, managers, or investment styles. Active investors who claim the ability to outperform a market are in essence claiming to accurately predict the future. When accurately measured, this is simply not possible. Surprisingly, the analytical techniques that active investors use are best described as qualitative or speculative, largely including predictions of future movements of stocks or the stock market.
Passive Investment is an investing strategy that tracks an index or a portfolio created based on pre-defined set of rules. The idea is to avoid the adverse consequences of failing to correctly anticipate the future.
There is sharp contrast between the behaviour of passive and active investment. Passive investors don't try to pick stocks, times, managers, or styles. Instead, they buy and hold diversified index based passively managed portfolios and enjoy risk adjusted market returns known as beta – β. The term "passive" translates into less trading of the fund's portfolio, more favourable tax consequences, and lower fees and expenses than actively managed funds.
~: Major differences :~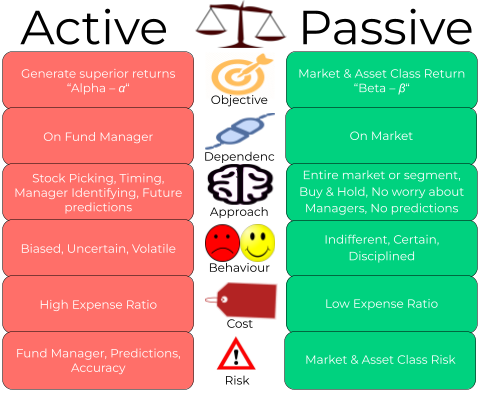 ~: Active Investment – Problems :~
Basic premise of active investing is to generate superior returns and beat the index or a benchmark.
Generation of superior returns greatly depends on,
how efficiently active investors are predicting the future,
how efficiently they are able to act upon information,
how are they interpreting the news,
how many variable factors they are able to foresee & interpret those factors &
how much skilful are they in doing these activities.
Largely there are five challenges of active investment. Let us dwell little bit more on each of these problems
~: Why Passive Investment? :~
In finance, investment refers to acquisition of any financial product with an intention to either generate income by way of interest / dividend or to generate favourable returns by way of appreciation.
Return is the function of risk. More risks more returns and vice-versa.
But does that mean if a great batsmen play without a helmet, it will help in scoring a century? Similarly, As an investor, we have to decide how much risk is appropriate to take and what risk premium we can expect by taking such risk.
Risks are of two types. Systematic Risk and unsystematic Risk.
Systematic risk, also known as "market risk" is the uncertainty inherent to the entire market or entire market segment. War, recession, inflation, regulatory framework etc. are considered to be as systematic risks. Such risks are uncontrollable risks and no one can do anything about it.
Unsystematic risk, also known as "company specific risk" is the type of uncertainty that comes with the company or industry. Frauds, management change, product related issues etc. are considered to be as unsystematic risks. Such risks are controllable risks.
Generating return is not in investors' hand, but controlling risk is. Passive investment helps investors in eliminating unsystematic risk and there by capturing the premium (returns) for taking systematic risks.
~: Advantages of passive Investment :~
 It is humanly not possible to beat the entire market on consistent basis. In such case, investors are better off with taking advantage of flowing with the market and not try to ride against the current. In essence, by adopting passive investment approach, investors are recruiting entire market to be their fund manager. Passive investment helps investors in,
Investing in entire market at a very low cost,
Eliminating unsystematic risk and capturing premium for systematic risk taken,
Diversifying assets
Taking benefits of market opinion instead of relying on a particular fund manger.
Investors may like to look at Index Funds or ETFs for their passive investment.