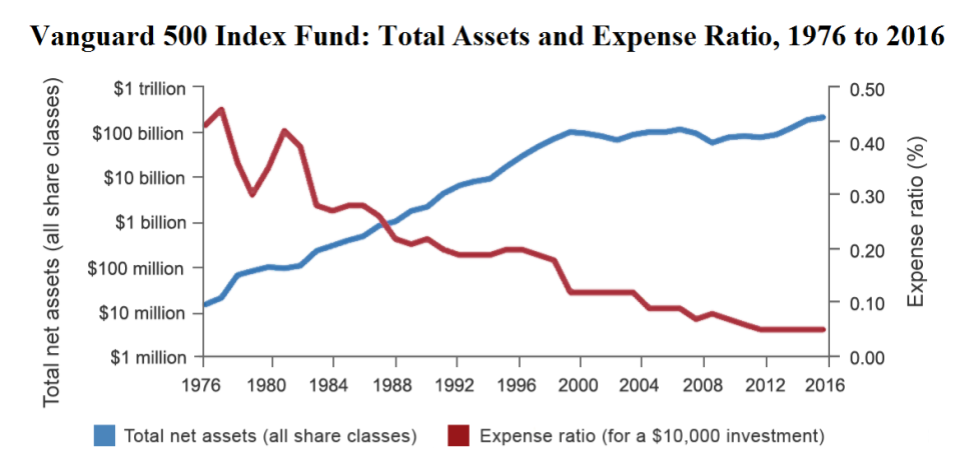 Forty years ago in Aug 1976, Vanguard's John Bogle created the first index mutual fund, offering investors a guarantee: They would never outperform the market, but nor would they underperform it. The Index Investment Trust (now the Vanguard 500 Index Fund) simply tracked the performance of the S&P 500.
Index funds are now a huge business, accounting for trillions of dollars of mutual fund money. And with good reason: Even though their returns are utterly average, their minimal fees bring big savings for investors, allowing them to outperform actively managed funds over the long term.
Bogle deserves a huge amount of credit for this. But as he has acknowledged, the real story of index funds begins far earlier than Vanguard's entry into the retail market in 1976
John McQuown and David G. Booth at Wells Fargo and Rex Sinquefield at American National Bank in Chicago both established the first Standard and Poor's Composite Index Funds in 1973. Both of these funds were established for institutional clients; individual investors were excluded.
August 31 2016, marked the 40th anniversary of the index mutual fund; it began with a single Vanguard fund in 1976 and for the first time Index Fund was available for common investors.
At the time, it was heavily derided by competitors as being "un-American" and the fund itself was seen as "Bogle's folly".  Fidelity Investments Chairman Edward Johnson was quoted as saying that "he couldn't believe that the great mass of investors are going to be satisfied with receiving just average returns". Posters were put up stating Index Funds are unamerican!
Bogle's fund was later renamed the Vanguard 500 Index Fund, which tracks the Standard and Poor's 500 Index. The Fund was started with small assets size of little over $10 million and have grown to around $100 billion.
In India, among the currently available Index Funds and ETFs, the first Index Funds based on Nifty 50, was launched in June 1999 by now Principal AMC.
Erstwhile Benchmark AMC was only Indian AMC dedicated to Passive Investment, Index Funds and ETFs.
Currently on 40th birthday of first Index Fund, i.e. Aug 31, 2016 there are around 88 Index Funds and ETFs with asset size of around 30,000 Crores in India & steadily growing. As on Aug 31, 2016 few Index ETFs are available at as low as 0.05% of the yearly expenses, giving investors an opportunity to take the equity exposure at a very low cost.
As a dedicated website we wish Index Funds a very happy birthday and prosperous years to come, globally as well as in India.
Happy Indexing !
[sgmb id="1″]